About Us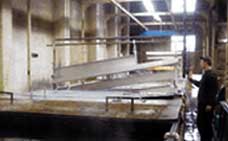 Surf-Tech Industries was founded in 1977 to provide metal finishing services to manufacturing companies in BC and Alberta. Our company started business in Port Moody and is still operating in the original location today.

Surf-Tech's market has grown steadily over our 35 years of successful business. We have expanded both in volume and in diversity of metal finishing services offered to our customers. Today, Surf-Tech Industries serves over 500 customers! No matter what industry you are in, Surf-Tech can take care of your coating needs.

In 1977, Surf-Tech began producing with only 2 employees. Today our company offers a steady employment and career growth to 10 employees who are devoted to delivering quality coating solutions .

Thanks to a very low turnover in the Surf-Tech work force, the professionals at Surf-Tech can offer our customers over 100 years of combined experience in metal finishing.

When it comes to assisting our clients with today's most technically-challenging coating applications, Surf-Tech can help. With a full-time chemist and a management team with a background in mechanical engineering, we have the resources to solve complex coating problems.
Surf-Tech Industries
Anodizing Division
2621 Murray St.
Port Moody BC, Canada
V3H-1X1

Phone: 604-931-7755
Fax: 604-931-9109
Email: info@sti-coatings.com
Powder Coating Division
2919 Murray St.
Port Moody BC, Canada
V3H-1X1

Phone: 604-461-0750
Fax: 604-461-0751
Email: info@sti-coatings.com